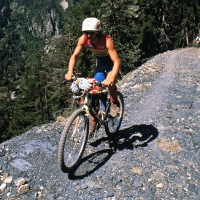 You probably don't want to get up every morning to hit the same place to work out at, do you? Workouts in the gym can get really boring, and it can even force you to withdraw from working out. You can have a hard time motivating yourself if you tend to routinely work out in the gym. But you have a good option in outdoor fitness workouts to keep your motivation level at a high.
If you enjoy some fresh air, then outdoor exercises can be your serious long-term companion, to whom you would love to come back again and again. It's even backed by scientific research that an outdoor exercise regimen can boost your stamina and strength by supplying more oxygen to you at a faster rate.
An Outdoor Fitness Regimen De-Stresses Your Mind
By now it's a well established scientific fact that outdoor exercises are really good for your mental and emotional, as well as your physical health. My grandma can really feel vindicated at such a claim,she's been saying this all my life! When you exercise outside in the green environment, your body releases stress hormones and helps your burdened mind to calm down a bit. The serene surroundings also lighten you up emotionally.
Some easy Outdoor Fitness Tips
1. Walking: At first, this seems an awkward inclusion into your outdoor fitness regimen list. People tend to associate fitness with something like dedicated military exercises, but they forget that simple things like walking can really boost their stamina, and can be done by anyone. Regular walking can cure many physical ailments, and is like a cure-all for all your health problems. It's much better for burning calories than going in for weight loss diets that force you to cut down on almost everything you eat.
2. Biking: This is something that is on everyone's lips when outdoor fitness exercise is mentioned. It keeps your legs in perfect shape, improves blood circulation, and you tend to drink a lot of water which helps to flush out the toxins from your body, thus improving your health too.
3. Yoga: Yoga is a great way to reconnect with your soul, and at the same time it helps you maintain physical fitness. People can do it in the comfort of their homes, but it's best to practice Yoga in natural surroundings, as doing Yoga means inhaling a great amount of oxygen- the purer it is the better. It's not just good for losing weight and maintaining a tip-top physical shape, but it also helps the body and mind to recover from a trauma quickly.
4. Sport: This is probably something everyone will put up their hand for. Sport is not just for recreation, it can be perfect for exercising each and every part of your body. You name it: heart, lungs, abdomen, legs, hands, chest, your mind too, and it exercises every part with such perfection that it beats, even the best highly dedicated training exercise for each part, hands down. You can play Soccer, Volleyball, and many others to keep yourself fighting fit. It's also one of the best ways to get moving (our lazy bodies) in winter.
There's no need to stick to a daily gym session to keep yourself in perfect shape, outdoor fitness workouts provide you far better ways to stay fit and healthy.