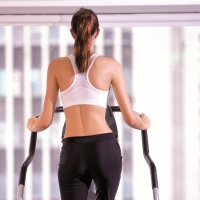 When we think of cardiovascular fitness we automatically think of running – this being the most popular and very good exercise for getting the blood flowing through the body which in turn benefits the heart. Best of all it does not have to cost you any money, simply walking or jogging in your neighborhood is a good place to start.
With running exercises everyone knows what to do. As well as being a good calorie burner up to 100 calories per mile it is also good for lowering the blood pressure and unclogging your arteries of any unwanted fat which can lead to heart problems.
With running exercises make sure you have the proper footwear and feel comfortable as you do not want to get blisters on your feet by wearing the wrong type of attire, like any exercises build yourself up gradually getting used to the surface you are running on and being able to have your breathing under control, and as you get more comfortable start to build up your distance.
As the phrase goes don't run before you can walk!
As well as cardiovascular fitness goes make sure to watch your diet without this all the hard work from running is no good unless your diet is kept in check, make sure you have eaten 30-40 minutes prior to exercising without this you don't want to run the risk of collapsing plus you will not have the energy to keep you going, with running try alternate your exercises with swimming or cycling to break the monotony, both being other common exercises and a great way to burn your calories.