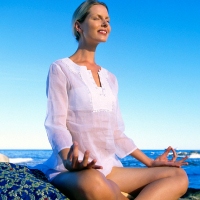 Spiritual health is the ultimate goal of holistic medicine, and leads to a heightened awareness of the Divine Spirit referred to by all religions.  Being consciously aware of the role Spirit plays in your life, being spiritually healthy also means being intimately connected to your spouse, partner, family, friends, and community, resulting in social health, as well. Spiritual and social health are interconnected, since it is through our committed relationships that you find the greatest opportunities for spiritual growth and for learning how to receive and impart unconditional love.
The four most important rituals to create spiritual health are: Prayer, Meditation, Gratitude, Spending time in nature, including near fire and water.
Prayer: Prayer is the most common form of spiritual practice performed by most Americans, and the majority of people who pray report a greater sense of well-being than those who don't.
You find great benefit using the prayers from your religious upbringing. You make prayer a time of personal conversation with God, stating your need or concern and asking for divine intervention.
Meditation: Meditation has been scientifically researched and proven to have physiological benefits for decades. Besides its physical benefits, which include stress-relief, improved immune and cardiovascular function, relaxation, and decreased pain, the regular practice of meditation can lead to new insights about life issues, heightened creativity, inspiration, greater compassion for others, and a greater connection to one's own inner guidance.
Gratitude: Gratitude produces feelings of joy and self-acceptance, and is an attitude that anyone can choose to have.  Being grateful for what you have, instead of worrying about what you lack, enables you to let go of negative thoughts and attitudes more easily.
Spending time in nature: The most visible manifestation of spirit is nature, where you fully encounter and interact with life's primal energies in the forms of earth, water, fire, and air.
Taking a walk in a park or hiking through the woods are easy and practical ways of reconnecting with nature and the earth, as are gardening, bike riding in the country, and camping and boating trips.
Spending time near the water can also be a spiritually healthy experience, due to water's higher concentration of negative ions, which can contribute to feelings of well-being.
Exposure to fire around a campground or before a fireplace can also have health benefits, Fire is  an important component of the vision quests undertaken by Native Americans to connect with the Great Spirit and discover their life purpose.
Of all nature's elements, perhaps the closest expression of Spirit is the air. Clean, fresh air is essential to health on all levels, and practicing conscious breathing as outlined above is a potent self-care method for restoring energy and making you more aware of the power of Spirit as it flows through you.