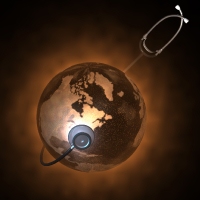 BBC News once quoted "According to the World Health Organization, some three-quarters of medical devices given by rich countries to developing nations, remain unused".
In response, the Institution of Mechanical Engineers has called for the development of technologies better suited to emerging nations.
Voltage regulators, infrared sensor technology and ultrasound scanners are just some of the donated equipments lying redundant in the world's poorest countries.
At its London headquarters, the organisation has been showcasing a range of technologies specifically engineered to work in challenging environments.
Currently, the lack of electricity, spare parts and trained operators, often means that technology developed in richer countries is totally unsuited to working in the developing nations.
Prof Chris Lavy, an Orthopaedic Surgeon, who has spent time in Africa, said: "One of the newest hospitals in sub-Saharan Africa was built with infrared sensors to turn the taps on in the operating theatres.
"Wonderful idea, but is it really appropriate in a country where there are no other infrared controlled taps and no engineer to fix them? Within a year most of them had failed, some of them in the off position, and some of them in the on position."
Innovative solutions
To make technology appropriate, the conference organisers' emphasise that not low tech, but different tech, that is needed.
This idea was demonstrated by the innovations on show: a solar-powered hearing aid that overcomes the need for expensive batteries, a stethoscope that can connect to mobile phones allowing doctors to monitor hard-to-reach patients remotely, and a nipple shield for breastfeeding mothers who are HIV positive which blocks the transmission of the virus to their babies.
Dr Patrick Finlay, medical division chairman at the Institution of Mechanical Engineers, said: "Simple, inexpensive technologies engineered for use in the developing world have the potential to save thousands of lives.
"It's now up to the engineering and development communities to get these technologies out of the workshop and into the world's poorest countries."
The majority of the displayed technologies were at the prototype stage, needing expansive testing in the field, and funding, before they are able to reach the people who need them."