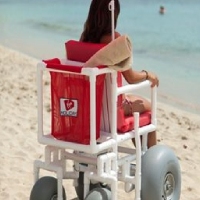 Virgin Holidays is a Company in U.K., formed in 1985, a year after the successful launch of Virgin Atlantic Airways, a year earlier; initially selling seats on Virgin Atlantic routes to New York, Miami and Orlando. This company has grown to become one of the largest and most successful long-haul scheduled tour operators in the UK.
The company offers holidays worldwide with destinations including the USA and Canada, the Caribbean, Africa, the Middle East, India, the Indian Ocean, the Far East, Australia and the South Pacific. In addition, the company has an established ski programme, "Virgin Snow", a specialist cruise division, "Virgin Holidays Cruises" and "Worldwide Journeys" touring
Virgin Holidays is delighted to announce a new complimentary service for their customers – beach wheelchairs. Available in selected hotels in Antigua, Barbados and St Lucia, these specially designed chairs allow customers who have walking difficulties or are wheelchair users, easy access onto the beach and into the ocean. These tricked-out chairs come complete with extra chunky beach-friendly wheels, sunshades and storage for beach essentials.
Virgin Holidays employee Nicola Davis, herself a wheelchair user, came up with the idea after visiting the Caribbean on holiday. "I have used beach wheelchairs in Florida for many years and then I travelled to the Caribbean and found out that none of the hotels offered them. I really missed being able to spend time on the beach with my children and realised that many people were missing out on one of the most important parts of a Caribbean holiday." The chairs were developed in partnership with Aqua Creek Products and have been getting rave reviews from the first customers that have used them, giving a liberating freedom to move around the beautiful Caribbean beaches with ease.
The beach wheelchairs are available to Virgin Holidays guests at the Almond Beach Village, Almond Casuarina and Almond Beach Club in Barbados, St Lucian by Rex, St Lucia and the Jolly Beach, Antigua, and are pre-bookable through the Virgin Holidays Special Assistance Team.
Virgin Holidays award winning Special Assistance team offers a dedicated service for disabled and limited mobility customers. Brochures highlight accommodation which is best suited for wheelchair access and those with reduced mobility can book accessible transfers, adapted vehicle hire and medical equipment hire. The team also provides theme park and excursions accessibility information to help customers plan ahead.