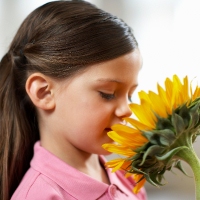 Children love bright colours and these eye-catching flowers and leaves are sure to be popular.
 Sight
Children make great subjects for drawings and paintings, from what they see or observe.
Sunflowers, Helianthus annuus; a bright, bold-looking flower
Pot marigold, Calendula; bright orange daisies that are easy to grow from seed.
Chameleon plant, Houttuynia cordata; amazing three-toned foliage that smells of lemon.
Swiss chard 'Bright Lights'; the brightly-coloured stems and foliage of this unusual vegetable are as tasty as they are beautiful.
Heuchera 'Chocolate Ruffles'; purple leaves with chocolate-coloured undersides and pretty, pale pink flowers.
Sound
Sit in your garden and encourage your children to listen to the sounds of nature – bees buzzing, birds singing and the sound of the wind rustling the plants.
Greater quaking grass, Briza maxima; an annual grass whose nodding flowers rustle in the wind
Love-in-a-mist, Nigella damascena; bright blue flowers which form puffy seed-heads that rattle when shaken.
Miscanthus oligostachyus 'Nanus Variegatus'; pretty bamboo-like foliage, creates a rustling noise.
Sweet corn; another rustler and good to eat too!
Bamboo, Phyllostachys; pretty foliage that whispers in the wind while its stems knock together, creat a hollow sound.
Touch
Leaves vary between plants; from rough to smooth, furry to spiky. Explain to them that every texture has a purpose.
Lamb's ears, Stachys byzantina; when you touch the silky foliage.Silver sage, Salvia argentea; a cotton wool-like down covers its large, silvery-white leaves.
Jerusalem sage, Phlomis fruticosa; soft, downy leaves with pretty yellow flowers.
Houseleek, Sempervivum 'Commander Hay'; a rosette-forming succulent that produces flowers on long stems. Leaves are rigid to the touch.
African sundew, Drosera capensis; meat-eating plant that catches its prey using a glue-like substance on the surface of its leaves – it's sticky to touch!
Smell
The heady fragrances given off by flowers and leaves are wonderful to enjoy in your gardens. The smells attract insects to the flowers or deter pests from eating leaves.
Curry plant, Helichrysum italicum; curry-scented leaves give off a spicy aroma on a warm, sunny day.
Lavender, Lavandula angustifolia 'Hidcote'; the classic scent of an summer garden. Cut and dry the flowers for use indoors.
Chocolate cosmos, Cosmos atrosanguineus; beautiful deep red flowers that give off a chocolate/vanilla scent – bound to be a hit with the children.
Sweet pea, Lathyrus odoratus; pretty flowering climber that gives off a strong sweet scent.
Heuchera 'Chocolate Ruffles'; purple leaves with chocolate-coloured undersides and pretty, pale pink flowers.
Taste
There are so many delicious plants that it's difficult to choose just a few. As most gardeners know, our fruits, vegetables and herbs are not only tasty to us – animals and insects love them too! Many plants have great tasting fruits to attract animals to eat them and disperse their seeds for them.