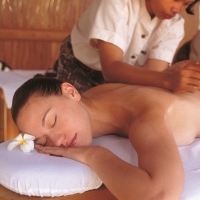 The Ayurvedic Oil Massage is carried out with warm oil and is a great way of recharging and rejuvenating the mind and body.
The "Abhyanga" (Ayurvedic Oil Massage) is an integral part of any daily routine recommended by the Ayurveda Healing System to bring a person overall health and well-being.
A full body oil massage, when carried out on a daily basis, will nourish and pacify the Vata and Kapha as well as relieving fatigue, providing us with stamina, pleasure and perfect sleep it also enhances an persons complexion and the luster of their skin, will promote longevity in a person and nourishes all parts of a persons body.
Below are provided some of the benefits that a person can expect from having an Ayurvedic Massage daily.
1.   There is increased circulation around the body especially to the body's nerve endings.
2.   Increased toning of the body's muscles and the whole physiology.
3.   Nerves become calmed.
4.   Joints become lubricated.
5.   A person's mental alertness is increased.
6.   There is an improvement where elimination of impurities from the body is concerned.
7.   A person finds that their skin becomes smoother and softer.
8.   People who have Ayurvedic Massage on a daily basis will find that their levels of stamina are increased throughout the day.
9.   Many people find that they sleep better and deeper at night.
Normally an Ayurvedic Massage is performed in the morning before you have a bath or shower. Either cured sesame oil, herbalized massage oil or aroma massage oil can be used to carry out an Ayurvedic Massage.
An Ayurvedic Massage is done using comfortably warm massage oil and then the finger tips are dipped into the warm oil before it is applied lightly to the entire body. You will then need to wait for 4-5 minutes which allows some of the oil to be absorbed by the skin. You then begin to massage the entire body remembering to apply even pressure with the whole hand (palm and fingers). You should however apply lighter pressure on sensitive areas such as around the abdomen and heart. Also when working on the nerve ending you should use more oil and spend more time massaging them. These areas where you should concentrate more with regard to nerve endings are the soles of the feet, palms of the hands along the based of each fingernail. Whilst you should use circular motions around the rounded areas of the body such as your head or joints, whilst straight strokes should be used on the straight areas of the body such as the arms and legs. Once you have completed the massage relax for 10-15 minutes allowing the oil and massage to work its magic on you then follow it with a relaxing warm bath or shower.
However, if your lifestyle does not allow for a daily massage then try to arrange to have one at least 3 to 4 times a week instead. You will soon find just how wonderful an Ayurvedic Massage is for you.