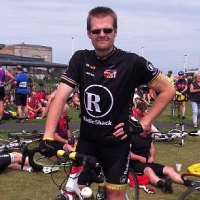 What did Gary Brennan from Hyde, Greater Manchester at 30, do to reduce himself from 40 stone to 13 stone?
At his heaviest weight of 39st 13lb Mr Brennan, couldn't even walk around his house without feeling winded. He suffered from diabetes and high blood pressure and was being tested for heart problems when his GP suggesting a gastric by-pass. Mr Brennan was shocked, having not realised just how obese he had become. He decided to lose the weight without an operation.
He got on to his bike, gave up junk food – eating crisps and drinking fizzy, in favour of proper meals.  He took almost three years to gain healthy BMI, to drop from over  70 to 24.2.
Now he's hoping to show others the power of exercise after he was short-listed to carry the flame when it goes to Manchester ahead of next year's London Olympics.
Gary, 30, said: 'If I got to carry the flame it would be the completion of the journey I started three years ago. In 2008 I was not able to walk to the toilet without getting out of breath.
In April 2008 he took to his bike after he had lost a few stones for a journey of just half a mile.
By October he had lost eight stone and was told he no longer qualified for bypass surgery. 'I was thrilled, yet at the same time scared,' he said.
Mr.  Brennan pushed onwards and by July 2009 he was cycling up to 17miles per day.  His weight was now down to 25 stone. He decided to tackle the 60mile Manchester to Blackpool bike ride for charity to give him focus. He managed it in just under five hours. By September 2009 he had also completed the Manchester 100mile.
But in January 2010 Gary was knocked unconscious after his bike slipped on a patch of black ice. It kept him off his bicycle for four weeks and affected his confidence.
He bought a turbo trainer so he could cycle indoors on his bike while it was stationary. Then after a few weeks he returned to cycling outdoors.
Then in mid-2010 he was injured again when a van driver collided with his bicycle. Despite the second set back he managed to complete the Manchester 100mile in September 2010.
Mr Brennan now cycles up to 200miles a week and encourages his children Kurt, 10, and Keira, seven, to get on their bikes and play outside. His blood pressure is in the normal range and his doctor says he is no longer diabetic.
Gary said: 'The biggest difference is now I just ooze confidence. Back in 2008 I didn't have any – I wouldn't have been able to pick up the phone and call someone, I'd have just sent an email."