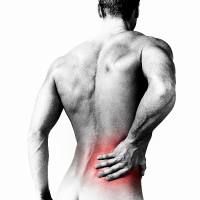 PosturePlast is a new drug-free medical device that helps relieve lower back pain by addressing the root cause of most 'mechanical' back problems, bad posture.
When your back is painful it will be over-sensitive. The slightest bad movement, a poor chair or mattress can trigger a vicious cycle of back pain for days. PosturePlast can help!
The Back in Action PosturePlast is worth its weight in gold. As soon as you apply the PosturePlast, you will begin to understand how different environments affect your posture. You need to begin with your individual posture assessment. As you go through the day the PosturePlast will highlight moments when you have bad posture and overwork the spine. This helps you to take action to improve the health of your spine, thus changing how you sit, how you move and the furniture you use.
Designed by Osteopath Adam Dallison, PosturePlast is a unique X-shaped adhesive support for the lower back that contains an innovative flexible strut. Based on the proven principle of taping, PosturePlast controls the range of movement and corrects posture, which in turn reduces pain and helps prevent re-injury. In trials 78 per cent of chronic back pain sufferers reported that PosturePlast significantly reduced their pain after just one week.
Lower back pain is a significant health concern in UK:
One in five people are predicted to visit their G.P this year with the condition
80% of people will suffer from lower back pain at some point in their lives
Almost five million working days are lost per year as a result of back pain
NHS spends almost one billion pounds per year treating sufferers2
Dallison says: "Because posture is fundamentally about how we use our bodies, how we bend, stretch, twist and lift, everyone can be at risk of back pain; from the incredibly active to those who lead a sedentary life and across a wide age spectrum, from adolescence onwards.
PosturePlast is a simple, yet incredibly effective device that can help reduce pain to let people get on with their lives, but importantly, and uniquely, it helps the wearer become more aware of good posture and helps retrain them to use their bodies in a safer way."
PosturePlast is drug-free meaning it can be used in conjunction with other treatments, worn when pregnant, when driving or even when operating machinery. Customers can buy PosturePlast from www.postureplast.co.uk in various sized packs; prices start from £4.00 for a single pack, through to £29.00 for a pack of 10. There is also an introductory offer giving 25% discount.