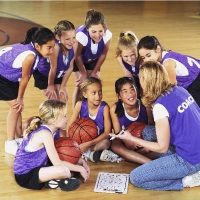 Sports medicine specialists say governments across the UK have squandered the chance to create an Olympic legacy of fitness.  They have called for mandatory "physical literacy" tests in schools, alongside reading and mathematics, to help children with health problems and identify future sports stars.
Leading Sports Medicine Specialist, Dr Andy Franklyn-Miller warns that the physical competence of future generations is being put at risk because of a failure to give PE the same priority as other subjects in the school curriculum.
He contrasts the support that is available for children who struggle in maths or English with the approach to physical development, cardiovascular fitness and co-ordination – elements of what he calls "physical literacy".
Dr Franklyn-Miller argues that there should be compulsory tests for these skills at each of the key stages as children progress through school.
Start to Move
The call coincides with an announcement by the Youth Sport Trust that it will train thousands of primary school teachers across England in specialist PE skills.
The charity's new Start to Move programme, funded by private medical firm Bupa, offers free training and support – focusing on the same principles of physical literacy rather than particular sports. The aim is to reach all primary schools in England in the next three years.
Chief Executive, Baroness Sue Campbell, is against the idea of testing.
"Whilst I'm all for assessment, all for challenge, all for encouraging the best to develop and supporting the less capable to catch up, I think if you introduced very rigorous testing in the way that's being described, I think that could have quite a negative impact on some children."
Russell Hobby, general secretary of the National Association of Head Teachers, said the tests would be used if they were helpful and well-publicised. "If this is another accountability measure for schools to rank them, then it will be counter-productive. Nor does it need to be compulsory. Schools have to demonstrate progress-tracking in every subject, including PE."
Christine Blower from the National Union of Teachers said that PE lessons should be positive and encouraging. "The idea of testing is potentially negative and could act as a potential brake on participation," she said.
Dr Franklyn-Miller insists that without mandatory testing, and clearly defined steps to help children who fall short, nothing will change.
Health and well-being
Dr Franklyn-Miller has chaired a major conference in London for the British Association of Sport and Exercise Medicine, which has endorsed a series of five-minute fitness routines put together for schools by the international fitness coach Kelvin Giles.
Children need access to high quality Physical Education (PE). It will remain a compulsory part of the curriculum, which will set out a clearer expectation that all pupils should play competitive sport, and will retain the expectation that all children should learn to swim.