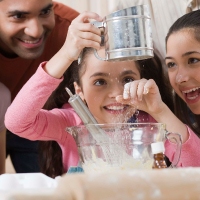 If you teach your children to cook, they're more likely to grow up to be healthy adults because they will have a better knowledge of cooking techniques, preparing food and new tastes.
A study in Liverpool, by City University London, found that cooking classes aimed at both school pupils and adults had a positive impact on eating habits, with more pupils saying they ate more fruit and veg following the sessions.
Another study, carried out by the School Food Trust, which measured the impact of a national network of school-based cooking clubs for four to eight years olds, found that learning to cook improved their recognition of healthier foods – and their desire to eat them.
On hold
The push to get school children to eat more healthily is not new, with Jamie Oliver among many others campaigning against unhealthy 'turkey twizzlers' on school dinner menus for years.
The previous government's plan to include cooking skills in the curriculum for 12 to 16-year-olds is now on hold while the current government reviews the national curriculum, to come into force in 2014.
At primary level, cooking is still part of the curriculum but the quality of lessons is thought to vary enormously from school to school.
Jacqui Lawson, a teacher of food technology at Enterprise South Liverpool Academy, organised for a group of her sixth form students to take part in a secondary school cooking competition run by Can Cook, a social enterprise. The students received three hours of training from a chef, before practising cooking some recipes and then their dishes were judged by a panel of professionals. This is where charities and social enterprise initiatives can play an important role, inside and outside school.
Beef burgers
They were trying dishes they hadn't tried before, like Spanish cooking, Thai food and how to make burgers from scratch with lean mince beef.  "At first they were sceptical, but they learnt to cook restaurant quality meals and the experience also taught them about working as a team and independently – lots of skills useful for later in life."
After the sessions, students' comments included, "It was challenging in a good way", "it was fun learning how to cook", "the chicken was quite hard to understand but the chefs helped" and "I felt I could do all of the stuff we were shown".
Since 2007, it has helped more than 1.7m people improve their cooking skills through more than 5,000 school-based clubs. A survey of 2,500 of its members found that 92% used their new skills again at home and more than half said they were eating more healthily as a result of learning to cook. Of the 335 children surveyed, an increased number said they ate more bananas, tomatoes and peas than before.