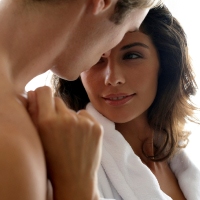 Great sex is extremely important in your relationship. With a bit of creativity, you can get the sizzle back in your love life.  So, fire up your creative energy and sexual desire – choose to be a dragon in your pleasure den and chase boredom out of your bedroom. With a simple creativity technique, you will discover how to heat up the passion and lust in your relationship and become a more exciting lover. It is time to step out of your comfort zone to try something fresh and experience new tantalizing pleasures for both your mind and body.
Great sex is not just physical. You all need to stimulate your emotions and your imagination. Everyone wants the thrill of doing something wild, naughty and new. Even if you think you have tried everything before, try them again but add a twist.
To get your creative juices flowing, you can surprise your lover with novel bedroom ideas and reinvigorate your love life. An easy way is to come up with something new and different,  randomly with multiple ideas.
Elements of great sex can be grouped into six categories:
Sensual Accessories: various types of sex toys, different styles of lingerie, food, flavored lubes, bondage equipment, etc.
Settings & Themes: location, style, mood, fantasy and role play. Your sexual desire can range from a sensual massage one day to a wild quickie in an elevator the next.
Foreplay for Him: there are so many pleasure points to focus on besides the obvious one of course. How many male hot spots and stimulation techniques can you think of?
Foreplay for Her: think of using your lips, tongue, fingers and other body parts to lovingly caress and sensually explore her body.
Sex Play Activities: sex play may involve multiple positions as you build arousal – it is more than just intercourse. There are so many imaginative positions and variations to experiment with. Manual and oral pleasuring also adds to the fun.
The Climax: consider how you will finish your sex session. What position or activity will result in orgasm? Will you both drift off to sleep, wash up for work or try to rev up for more?
Alone or with your partner, create a list of ideas for each category. By mixing and matching an idea from each group together, you will have all the elements required for a night of frisky fun.  Although you most likely have a huge list of your own sexy ideas, sometimes you may want an extra source of inspiration.
Once you come up with your lists of naughty ingredients for your erotic menu, randomly select a few and surprise your partner with wild combinations of pleasure possibilities. It is really that easy. Sex does not have to be spontaneous. Just remember to leave your lover satisfied but always wanting more.