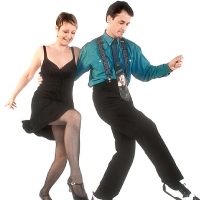 It seems, you don't enjoy regular exercise to burn some calories or to keep you slim.  If you've thought adding some variety to your exercise schedule, then have you considered dancing?
Why Choose Dancing?
Regular exercise may be a little easier to stick to, if you really enjoyed doing it. Have you got a favourite sport such as golf, tennis or football, that can keep you active? A varied exercise regime can certainly help keep you fit and highly motivated. Dancing can provide a really energetic and fun workout, and there are plenty of styles to suit all tastes. It can be done at a local class where you can meet new friends who have the same goal, or in the comfort of your own home with a DVD. Dancing is so effective because it raises your heart rate, promotes healthy movement and works your entire body.
Different Forms Of Dancing
Lets take a look at some of the different dance styles you can try, and what they entail: –
Zumba:  Zumba is one of the most popular dance fitness programs of modern times, combining energetic Latin dance moves with an equally lively Latin soundtrack. This is a very intense dance program that was developed in the mid nineties by a Colombian aerobics instructor. The fast-paced routine is a great way to burn fat, and perfect for anyone looking for a demanding workout.
Line Dancing:  Line Dancing is performed in classes, as a group dance with a country and western soundtrack. It is a very sociable form of dancing, where dancers form long rows (in single file) on the dance floor and move in unison to the music. This is a great activity suitable for everyone, as it is very relaxed and you don't need a partner to take part. It is less intense than Zumba, and is very popular amongst more mature people.
Belly Dancing:  Belly Dancing originates from Asia and the Middle East, and is one of the oldest forms of dancing. It is a very energetic dance routine, involving a lot of moves which work the abdomen muscles. It is usually performed solo, so its a great dance to perform on your own.
Swing:  Lets twist again like we did last summer, oh happy days. Swing dancing dates back to the sixties and involves jumps, swings and flips as couples throw each other around the dancefloor. It is a very energetic form of dance that uses a wide variety of music and involves couples holding hands rather than placing them on each others bodies. Swing is a great fat-burning dance routine.
There are many more forms of dancing, and they are all excellent fun ways to get active, meet people, have fun and broaden your horizons. Can dancing burn fat? The answer is a resounding yes, and you will have a damn good time while you're doing it.