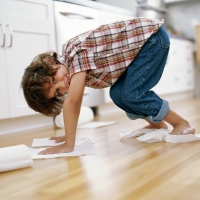 Whether Steam cleaner or mop – purpose is the same.  These are used to clean and sanitise your floors, countertops, bathrooms and any other space or piece of furniture in your home. As technology advanced, steam cleaners were introduced, when the traditional mops got outdated.
High-tech Steam Cleaners have become more popular accessories.  The design uses a flash heat system instead of a high pressure boiler in a combine unit that quickly goes from steam mop to handheld steam cleaner. If it is floors you are tackling, you simply fill the water tank and seconds later clean steam is at your fingertips.
A mop is a mass or bundle of coarse strings or yarn, attached to a pole or stick, used since more than four centuries. It is used to soak up liquid, for cleaning floors and other surfaces, or to mop up dust, or for other cleaning purposes.  To clean a floor, the mop is soaked in a bucket of water, into which some cleaning solution has usually been added, and swept against the floor surface.
Instant steam cleaners have seen Brits turn gradually from the mop and bucket approach to appliances with an edge. Over 16 new steam mops launched in the UK in the last year, making steam cleaning a hot new trend.¹ Last year, distributor JML launched Shark, a range of high performing steam mops which mean customers can deep clean floors and surfaces in under 30 seconds. The brand can reveal that sales of its steam mops have overtaken traditional mops for the first time ever, selling almost twice as many.
Sales of steam mops have doubled in six months at JML retailers and online (www.JMLdirect.com), as Brits become a nation of high tech cleaners. JML's best-sellers include Shark's Steam Pocket Mop (£99.99) and its handheld Shark Portable Steamer (£89.99).
The latest version of high tech steam mops work by rapidly heating up water to produce steam, which is then applied to the carpet or surface at high pressure. This produces a 'dry' steam that easily lifts dirt, grease, bacteria and even dust mites.
The Shark Steam Pocket Mop, is equipped with a patented lattice-design mop head that 'pools' steam inside the fabric, ensuring a continuous flow, while allowing the pocket to 'breathe'. So, there's no condensation and your floor dries instantly.
It has a flexible head that swivels 180° to get under tables and awkward corners and it kills 99.9% of germs and bacteria – perfect for sanitising floors for your children and pets.
Dearbhla Mac Fadden, JML's Brand Manager comments: "Cleaning is driven by innovation and technology so it's great to see Shark replacing mops and messy buckets of water. And it can clean your floor in less than 30 seconds."
Steam mops that have launched in 2011 include ones from Shark, Bionaire, Bissell, Black & Decker, Domotec, Efbe-Schott, Ewbank, Home-Tek, Lakeland, Montiss, Morphy Richards, Thane and Vax.