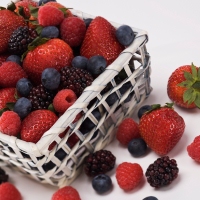 The food you consume may have a negative effect on your system.  Removing inflammatory foods not only reduces insulin resistance, but allows you to lose weight as well. If you are considering a weight loss plan, here are some anti-inflammatory foods you should include in your diet.
Imagine if you start right now, in only 10 to 12 hours you can end hunger pains and stop craving sweets and fats. In three to four days, you will notice changes in your mood, your sleep patterns, and in the look and feel of your skin. In two weeks, you could notice changes in your health, lose several pounds of real fat, and have enormous energy. Are you willing to give it a try? Here then is a list of anti-inflammatory foods you should incorporate into your diet.
*    Fresh fish: mackerel, sardines, tuna, salmon, trout, and omega 3 type fish
*    Vegetables: tomatoes, peppers, peas, spinach, kale, parsley, cilantro, radishes, raw carrots, celery, onions, garlic and cucumbers.
*    Fruit: apples, pairs, kiwi, oranges, grapefruit, peaches, plums, melons, strawberries, blueberries, blackberries, and currants.
*    Lean Chicken, turkey, grass-fed beef, bison, elk and venison
*    Dried nuts, seeds and beans
*    Herbs and spices
*    Green and brown teas
*    Extra virgin olive oil
In addition, also eat steam leafy green vegetables, so none of the nutrients are lost. Stay away from salt and cheese. You can make delicious shakes by combining fruits and vegetables.
For example: carrots and apples are a healthy combination, and include anti-oxidants which are an important element in your diet regimen. When eating any of the meats specified, you remove the skin as well as trim the fat.
When eating nuts, choose almonds, walnuts, pecans, pine nuts, or hazelnuts; roast them, before consumption, as they release essential oils which are most beneficial.
Herbs, except salt, have medicinal properties. Spices such as turmeric, ginger, cinnamon and oregano are often recommended by physicians.
Beans, peas and legumes, such as lentils, kidney beans, and chickpeas are very high in protein and considered high fiber foods. Tip: Beans and escarole is not only a delicious and satisfying dinner, but extremely healthy as well.
Green tea is an antioxidant; two cups a day will suffice. Another anti-oxidant is extra virgin olive oil, and includes omega 9 fatty acids. Tip: This oil can also be used on your skin to achieve suppleness.
Using any of the aforementioned foods in your diet regimen can yield results, but it takes commitment and a willingness to persevere, in order to achieve your goal to lose weight in a healthy and safe manner.  Given the fact that your society is in the midst of an obesity pandemic, it seems logical that a diet which not only contributes to weight loss but, at the same time, provides a healthy alternative to other diets on the market is worth considering.