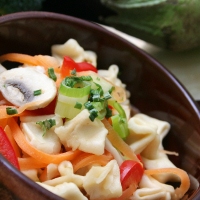 If you have a look at the bottom of an ice cream carton, you'll   notice the quantity of calories it contains – perhaps, "150 calories per pint"? Yes, per pint.
Foods aimed at helping you slim down have been around for decades, but a recent wave of ultra-low calorie products — such as the 150-calorie per pint dessert Artic Zero — is making a direct appeal to our national sense of gluttony.
Now food manufacturers are testing whether the desire for big servings can make peace with your need to shed pounds — or at least make big profits.
Though Tofu Shirataki noodles from California-based House Foods America Corporation, offer two 20-calorie servings per 8-ounce package, it's understood that you'll eat the whole bag.
"Most people eat the whole bag for a meal," says Yoko Difrancia, the company's marketing supervisor. "The whole bag is more realistic."
It means that if you were feeling a need to binge, you could pound down a pile of noodles, a couple brews and a pint of "ice cream" all for 300 calories — the same as one McDonald's cheeseburger.
Consumers seem to be buying it. Sales of Arctic Zero, introduced in 2009, have grown 15 to 20 percent per month for the past 18 months, Pandhi says.
Many of these products are achieving their low-calorie status with different ingredients than similar products in the past.
There is little doubt that your proclivity towards overeating is in part a product of the fact that we were programmed to derive pleasure from eating, and that in the modern world many of us have essentially unlimited amounts of food at our disposal.
In 2000, Penn State professor Barbara Rolls began promoting what she calls volumetrics, an approach to healthy eating that shifts the focus from reducing portion size to reducing the number of calories per portion.
When people sit down to a meal and don't know the calorie count they tend to take a set amount by weight and volume.  The solution is not to reduce the volume of food on the plate, but rather the number of calories in the same volume (called the calorie density). Add plenty of water-rich, calorie-light foods, such as fruits and vegetables. The idea is not that you can or should eat a much bigger volume than you typically do.  It's that if you eat your usual amount you're going to feel full but with fewer calories.
Health advocates and dietitians remain committed to the idea that portion sizes must come down. They say, these products could offer baby steps to people struggling to control their weight. And they might also be useful when you feel that binge coming on.