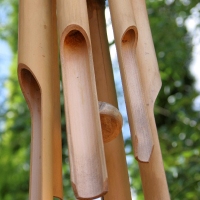 Wood Wind Chimes are made from hollow or solid wooden tubes usually hung outside of a building or residence – inside an open window, as a visual and aural garden ornament and are played by the wind.
The wind moves them and causes the chimes to strike against each other, which are mostly hung in the centre. The inherent, natural acoustics entertain and relax you from the strength and movement of the wind.
What better way to enjoy some time in the garden, where you listen to the gentle and natural music coming from wind chimes and you feel like you are on a tropical island?
Few things are as relaxing as listening to bamboo wind chimes gently bonging in the breeze; except, perhaps, for the pleasure of making them yourself. Bring some Zen into your life with Dremel's easy step-by-step guide.
Step One:  Mark out a circle on a piece of wood (12cms in diameter) and cut out. Repeat to create a smaller wood circle (5cms in diameter). Then cut seven lengths of bamboo (three x 30cms, three x 36cms, one x 10cms in length).
Drill six, equally-spaced holes around the edge of the larger wood circle, two in the middle and another four holes (set 2 cms in) for hanging the finished set of chimes.
Drill two holes through the middle of the smaller wood circle, and two threading holes through each side at the top of the six lengths of bamboo, and one through the top of the small bamboo piece.
Step Two:   Cut away and shape the lower half of the bamboo pieces. Using a pen, draw your own designs on each piece of bamboo, and mark lines round the edges of the two wood circles.
Step Three  Using a woodburning tip, burn your design onto the bamboo and the lines around the wood circles.
Step Four:  Use cord to thread the small wood circle and small length of bamboo through the centre of the larger wood circle.  Thread the longer bamboo lengths around the outside, then thread the four hanging holes and ensure the chimes hang evenly.
Tools required :
Dremel 300 Series multi-tool,                         SpeedClic mandrel SC402
SpeedClic wood cutting wheel SC544           Line and Circle Cutter Attachment 678
Spiral bit 561                                                   Wood drill bits 636
Dremel Versatip with woodburning tip         
For full instructions, visit  www.dremel.co.uk
Bamboo wind chimes make excellent gifts.  If you want to give someone something meaningful and special unique chimes made out of bamboo are suitable for anyone who likes to sit in the garden.