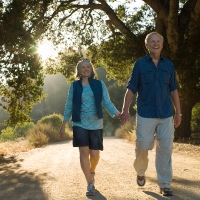 When it comes to Walking Holidays, Presentation, Practice and Performance are considered top tips in management.  Silver Travel Advisor has come up with 10 'P's to prepare for prolonged perambulation during walking holidays and when trekking with friends.
 Prepare: buy your boots early. Half a size bigger than normal, your feet will swell (flights, age, heat). Wear them all the time, not just for walking. Wear them to Zumba, for fishing, reading, even wear them to bed.
 Practise using your She-Wee and going al fresco before you travel. If your first outdoor pee is under an acacia tree in the company of others then panic and wet socks may ensue. Find a quiet spot behind the garden shed before you go. Literally.
 Pack light: don't take anything that needs ironing and then roll everything. Allow two pairs of socks per day (see above), a notebook & pens for thoughts/diary, a photocopy of your passport/visas/ insurance, a head torch (you'll become a fan) and a fleece.
 Plasters: If you don't use them for your own blisters they make great trading items with fellow trekkers. As in 'swap you three Compeed for a bottle of wine'.
 Plastered: avoid this at all costs. Drinking too much and walking miles the next day is a poor partnership, and gin and mountain hikes are poor bedfellows. Over indulgence can also result in wet socks, see 2.
 Poles: Nordic walking poles enable you to become a quadruped and spread the load. They are great for aching hips and shorter legs. Pole down your local high street a few times before you go, try going too fast, too slow, just ignore the stares.
 Platypus: despite the advice in 5., drink as much (water) as you can. Drink, drink, drink and make careful a note of the advice in 2.
 People: there is always one. Usually The Competitive Bore, often with halitosis. If captured tell him a very boring story (think `planning permission') and, as he'll be racing to be at the front, keep to the back of the group. Adopt a leisurely pace and that way you can chat and enjoy the scenery too.
 Prevention: watch for signs of dehydration, such as flushed face and red ears (similar to the effects described in 2.). Pour water over the poor soul (suggest telling them first) and advise they wear a wet neck scarf. Hats are essential, go Indiana Jones, get a leather one with breathable mesh and let the dog maul it first for the authentic look.
 Pause: to reflect, to take in the view and to enjoy the peace. Be glad, you're there, somewhere special. You've escaped – for now!
To find reviews of walking holidays Read travel reviews and travel advice on Silver Travel Advisor. To sign up- become a free member, visit silvertraveladvisor.com.