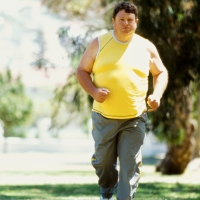 Testosterone could be the magic weight-loss drug that men are looking for. A new study shows that obese men receiving testosterone shots lost weight, but doctors are divided on the value of the results. Experts warn that supplements may not be the answer due to possible risks of prostate cancer and heart disease.
Prof Richard Sharpe from the University of Edinburgh Centre for Reproductive Health said: "The notion that this is a quick fix for obese older men is, as always, simplistic. It is far more sensible and safer for men to reduce their food intake, reduce their obesity, which will then elevate their own testosterone."
Male menopause?
The findings announced at the conference also suggest that raising testosterone levels could reduce waist circumference and blood pressure.
Dr Farid Saad, lead author of the study said: "We came across this by accident. These men were being given testosterone for a hormone deficiency – they had a range of problems – erectile dysfunction, fatigue and lack of energy.
Over the course of five years, obese men on hormone replacement therapy lost an average of 35 pounds each. Their body mass index also dropped from 34 to 29, moving them from the obese to overweight category. This coincided with improved cholesterol and triglyceride levels, as well as lower blood pressure.
"When we analysed the data we found that every year, for five years, they had lost weight. It may be that the increased testosterone restored their energy levels and led to a behavioural change of being more physically active."
However, experts remain dubious. While some experts have linked low testosterone levels to a male "menopause", with symptoms including changes in sleeping patterns, poor concentration, feeling worthless and anxiety, others have found to have no such link.
Prof Ashley Grossman, an endocrinologist from the University of Oxford said: "This is interesting, but not absolutely convincing. We cannot say for sure that this is the effect of the drug rather than being involved in such a trial.
"I will remain sceptical until I see a large scale study in a more robust fashion." The gold standard test would be to pitch the testosterone injections against a dummy drug in a controlled trial.
The study looked at 115 obese men aged between 38-83 years with low testosterone levels. They were injected with the hormone every 12 weeks to increase levels. The research, paid for by Bayer Pharma, a manufacturer of testosterone replacement therapy, found no increased risk of prostate cancer, a side-effect found in other studies.
The relationship between obesity and testosterone appears to be a vicious cycle. There are numerous studies showing that obesity, in particular abdominal obesity, is associated with reduced testosterone levels in men and a reduction in muscle.
With ageing, especially beyond 40-50 years, testosterone levels tend to decline slowly, which may predispose to abdominal obesity which will then further lower testosterone levels.