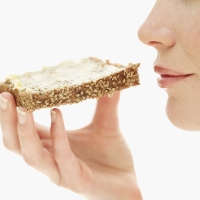 Cutting back on salty foods such as bacon, bread and breakfast cereals could reduce people's risk of developing stomach cancer, according to the World Cancer Research Fund.  One in four shop loaves contains as much salt in a single slice as a bag of crisps, research reveals.
Expensive artisan breads sold by specialist bakeries are likely to have the highest levels, but names such as Greggs, Asda and Marks & Spencer are also accused of using too much.
While big-brand, wrapped bread must put salt content on the pack, shoppers are in the dark about bakers' loaves.
The nation is overdosing on salt daily, consuming an average 8.6g – 43 per cent more than the recommended 6g  maximum. Doctors say that this creates a risk of high blood pressure, stroke and early death.
A survey of salt levels was carried out by lobby group Consensus Action on Salt and Health (CASH), which is calling for honest labelling and a change in recipes.  The group, which says bread is responsible for a fifth of daily salt intake, surveyed 294 fresh and packaged loaves from supermarkets and in-store bakeries, as well as chain and independent shops.
More than one in four – 28 per cent – contained as much salt, or even more, per slice than the 0.5g in a standard 34.5g packet of Walkers Ready Salted Crisps.  CASH looked at the salt level per 100g, which equates to two thick slices of bread.
In terms of bakery chain loaves, Paul came out highest. Its brown Pain de Campagne had 2.83g of salt per 100g, which is almost half the daily recommended maximum in two thick slices. For packaged bread, the highest level was found in Cranks Seeded Farmhouse at 2.03g.
This was nearly four times higher than the lowest option, Marks & Spencer's Simply More Eat Well Healthiest White Bread – 0.58g/100g. CASH campaign director Katharine Jenner said: 'You wouldn't expect to be eating more salt than a packet of crisps in just one slice of bread.
'It is scandalous that there is no labelling on fresh bread. Without it, how are we supposed to know where salt is hidden and cut our intake to less than 6g a day?'
Victoria Taylor, senior dietitian at the British Heart Foundation, said: 'Salty food doesn't necessarily have to be junk food. Some manufacturers are working towards targets for salt reduction, but we need more action to cut the salt content in bread and make sure they provide colour-coded food labels to help customers.'
Meanwhile the Researchers have found that school lunchbox snacks are filling up children with sugar and salt. These pre-packaged favourites are included in the daily meal by eight out of ten parents.
A pack of Dairylea Lunchables 'Ham'n'Cheese' Crackers contains 1.8g of salt, for example. And the Fruit Factory's Fruit Strings are alm