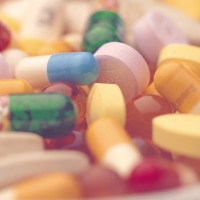 Do you feel fatigued, stressed, have difficulty sleeping or even abnormal physical changes, such as brittle fingernails or dry hair?  This may be due to nutrient deficiency.  Yet, you have not realized to know what has gone wrong.  Your body doesn't get all of the vitamins and nutrients it needs to operate at full potential.
Dietary supplements help you to cure, treat, or prevent disease. In other words, they contribute to health maintenance and well-being.  Not all supplements use natural ingredients and individuals might have allergic reactions to certain products. Choosing the right dosage is also important. Overdosing even on natural herbs can cause serious physical damage and potential complications. Here are some of the most popular herbal diet supplements and their benefits.
Aloe Vera: It is used topically as a juice, gel, or in lotions to sooth burned, irritated, and itchy skin. It is also used in extract form to fight skin disorders such as eczema.
Ginger Root: It is popular in aiding digestion.  It is a remedy for nausea, colds, and flu. It is one of the more delicious herbal diet supplements.  It is popular as a tea or the root can even be chewed on for relief.
Flaxseed: It is commonly prescribed as a natural laxative as it is high in fiber and fatty acid. It is also believed to fight cancer, heart disease, diabetes, and high cholesterol. It is commonly found in oil or capsule form. It is recommended to ingest along with high amounts of water to avoid potential dehydration from the laxative effect.
Green Tea: It is one of the more popular herbal diet supplements.  It has been used for centuries as an immune booster among a multitude of other health benefits. It is also thought to prevent cancer and heart disease, as well as assist in weight loss. It is most popularly taken in tea form (naturally), but there are also tablets and other forms available.
Vitamin C : Easily available in citrus fruit and juices, Vitamin C is a powerful immune booster. If you ensure your body has enough, this herbal diet supplement can help you fend off infections or shorten their duration. A lack of the vitamin can actually weaken your immune system, making you more susceptible to colds and other illnesses.
 Ginko Biloba : This herb contributes to improved mental health. Research has suggested that ginko may help improve memory and the ability to concentrate. It also contains antioxidants that may help prevent cancer, heart disease, and high blood pressure. There are herbal diet supplements to suit every individual's needs whether you suffer from arthritis or want to add some shine to your hair.
Choosing the proper herbal diet supplements or mixture will take some experimenting as individual reactions will vary. You'll also have many choices of usage including tablet form, liquid extract, tea, or in some cases topical.