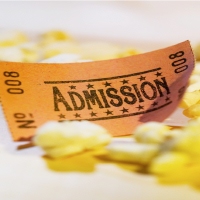 Popcorn is a special type of corn grain. Instead of being eaten off the cob, popcorn is stripped from the cob and heated in a pan until the inside literally breaks through the tough hull, creating fluffy crunchy kernels.
Popcorn seasonings include spices.  Popcorns have flavours, such as chocolate, blueberry, strawberry, or coconut.  Some popular gluten-free popcorn seasonings include flavors such as lemon-herb, curry, and southwestern chili. Recent studies have shown that the powders used in microwave popcorn are unsafe.  You eat this popcorn at movie theatres.
Fruit salad is a dish, consisting of various fruits.  These are served as desset or may be as appetizers.
Quoted by Sky News Online: "Michael Lynton, head of Sony Pictures, told cinema owners they should be offering healthier snacks to help fight obesity and give audiences a broader range of food choices.
He said: "I don't mean close the window for popcorn, soda and candy. Audiences love them and should always be able to buy them at your theatres.
"I can almost imagine the Romans eating popcorn and drinking Coke at the Coliseum 2,000 years ago."
The average cinema bucket of buttered popcorn has 76 grams (2.6oz) of fat – the equivalent of six McDonald's cheeseburgers – and 1,100 calories.
According to Mr Lynton, healthier food selections suggested by cinemagoers included fruit salads, vegetables with dip, yoghurt, granola bars, baked chips and unbuttered, air-popped popcorn.
However, Mr Lynton admitted that old habits might die hard. He said: "I don't think giant tubs of spinach or broccoli is a good idea. "And nobody wants to eat cauliflower while watching Spider-Man, or drink a 40oz cup of prune juice."
Last month Tim Smith, the chief executive of the Food Standards Agency, called for filmgoers to be told how many calories there are in the popcorn, ice cream and fizzy drinks and for them to be available in smaller portions.
Deirdre Flynn, spokesman for the Popcorn Board, a non-profit organisation funded by US popcorn processors, said: "If you ask most consumers what they consider the number one movie snack, they will tell you it's popcorn.
Popcorn and movies have gone hand in hand since the early 1900s.