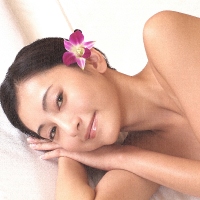 Ulthera or Ultherapy or Ulthera Therapy is a non-surgical ultrasound based based procedure for lifting and firming the sagging areas of your face and neck.    Ulthera provides micro-focused precise heating and vibration of both dermal and deep fibro-muscular supporting layers of the skin.
The Ulthera(TM) system, which has recently been introduced in the US in very limited quantities to qualified physicians, uses safe and effective ultrasound technology to deliver acoustic sound waves deep into the skin to thermally stimulate the body's own collagen to help rejuvenate the face. The Ulthera  is a new generation of face lifting procedures and stands out from broad variety of non-invasive anti-ageing treatments.
What makes Ulthera effective? The micro-targeted precisely focused beam of low leveled heat (about 60 degrees Celsius for about 20 mile-seconds) and the vibration of ultrasound wave causes "injury " of deep tissues (dermis) of the skin, leaving the surface of the skin undisrupted. The body natural healing response to the "injury" is the contraction of tissue structures and initiation of a collagen building process. This makes Ulthera not only a tightening and lifting, but also a firming treatment for your skin.
For those who seek the latest in effective anti-aging facial rejuvenation but want minimal downtime or side effects, there is some exciting news. Ulthera(TM) has recently received approval by the FDA for use in the United States. Ultherapy is a revolutionary non-surgical cosmetic procedure that is completely innovative in its approach to facial rejuvenation.
This system also uses acoustic imaging to enable the physician to see the layers of soft tissue beneath the skin prior to treatment to ensure a uniform and accurate application of the ultrasound waves. Unlike typical devices that use lasers, radio frequency or light, this ultrasonic system promises to be the next significant development in anti-aging.
In the US, clinical trails were performed at Northwestern University in Chicago. Results have shown that one full face Ultherapy treatment can produce significant and satisfying tightening and lift. In three independent evaluations and quantitative assessment of photographs of before and after subjects, 9 out of 10 patients demonstrated significant eyebrow lift after 90 days, with results that made the eye look more open with less hooding. The patients themselves reported skin that was tighter in other areas of the face for an overall refreshed appearance.
Ultherapy is performed in about 30 minutes and is completely noninvasive. The physician gradually moves the flat surface of the ultrasound applicator over each region of the face. The sound waves deliver small, controlled amounts of energy into the deep layers of skin and soft tissue while sparing the upper layers. There is typically no need for an anesthetic and you can return to your normal daily routine immediately after the treatment.