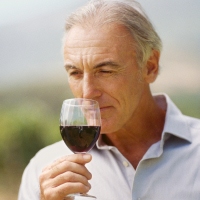 You may wish to improve your sense of smell, due to various reasons. It's closely linked to your sense of taste. Try tasting food with your nose pinched! It is also a required skill to describe aromas in wine, coffee and beer, even tea. And in general, being able to smell the subtleties in the scent of a flower, or someone's skin, or autumn leaves, can offer a deeper dimension of enjoyment. The average human nose can detect nearly 10,000 distinct scents.
Here are a few steps to improve your sense of smell
Pay more attention to what you already smell. The more you use your senses, the better you get! Learn how to describesmells.
Note how certain smells make you feel. The nerves that sense smell are directly connected to the emotional part of your brain, leaving your rationality out of the equation.
 
Avoid foods that cause excess mucus production. Have you ever noticed that your sense of smell fades, or perhaps completely disappears, when you have a cold? Congestion in the membranes in the nose that contain the smell-sensitive nerve endings can dull your ability to smell.
Exercise. Studies suggest that our sense of smell is sharper after exercise,  so here's yet another reason to stay fit!
Use a humidifier. Increased moisture in the air leads to increased moisture in your nose, which improves the sense of smell
 Stay away from stink. Prolonged exposure to bad smells tends to numb your ability to smell
The New York University Langone Medical Center team says their work also raises hopes of reversing loss of smell caused by ageing or disease.
But a UK expert thought that was unlikely.
Impairment in the sense of smell is associated with Alzheimer's disease, Parkinson's disease, schizophrenia, and even normal ageing.  Exactly why smell weakens remains a mystery, but the Langone team have pinpointed a half-inch-sized area of the rat brain called the piriform (olfactory) cortex where the problems appear to occur.
What is the best way to predict the taste of a dish, before even eating it? Yes, you guessed it right; it is by having a whiff of its scent. We make use of our sense of smell for a number of other purposes too, in fact so many that we start taking it for granted. Do you know that our sense of smell can decline with our age, especially if we do not make any efforts for improving or strengthening it? The worst part is that the decline will be so gradual that you will hardly be able to notice it. Now, for the good part, you can improve your sense of smell, by making a few simple changes in your lifestyle.