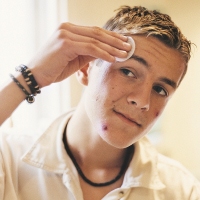 Acne is perhaps the most widely spread and extremely common skin problem, throughout the world amongst older teenagers and young adults, irrespective of gender. It can cause serious skin problem if proper care is not taken in time.  Social Trauma is another side of Acne which really forces the sufferer to choose the costly products, which usually promise a lot but produce some or no result. Before you start to buy those expensive products, here are top 3 vastly used inexpensive home remedy tips. Read this article carefully.  It will show what you should do exactly, to get rid of acne forever.
Toothpaste
Yes The tooth paste is used as effective home remedy for quite some time. Believe it or not, toothpaste can sometimes help clear up acne. Though there is no scientific study behind this. Many people find this old age technique really helpful to cure the Acne. While Choosing the Toothpaste one should remember the following points
– Normal Toothpaste should be applied
– Don't Use the Gel Tooth Paste
– Fluoride as an ingredient should be present as minimum as possible, in toothpaste
– Do Not Keep it on the acne More than 5-7 minutes.
Salt and Vinegar
Salt water has disinfectant property>  It is sometimes also used as solution with or without vinegar, to clear up acne both by drying the skin (removing excess oils). Wash the face with milder solution of salt, twice a day (with vinegar if you like it)
Plant-Based Acne Home Remedies
The Plants also prove its capability to fight against the acne.  Here is a list of very effective plant based home remedy
– Fresh garlic can be rubbed on acne at regular intervals.
– Make a of Mix of lemon juice with cinnamon and apply to acne.
– Juice of Raw papaya can be used as reliever to swelling acne.
– Aloe Vera also have very effective skin healing property.