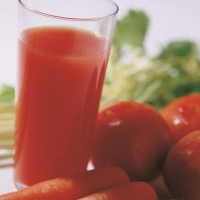 This is a very simple high alkaline recipe that is made from fresh vegetables. It has a lovely vibrant green color. It is very easy to make in just a few minutes. It is extremely healthy for you. Enjoy!
Alkaline Vegetable Smoothie 
Ingredients:
1 cucumber
5 sticks of celery
2 cups of chopped cabbage
1 cup of spinach
1 cup of kale
1 lemon, squeezed
Directions:  Put all the ingredients in a blender and blend well. Pour into tall chilled glasses and enjoy.
Stuffed Jalapenos High Alkaline Recipe for Your Next Party:  This is a delicious recipe, if you are on a high alkaline diet. Having a party does not mean you cannot still stick to your diet routine. There are a lot of great high alkaline recipes that you can serve yourself, family, friends and guests. Try this one it is really delicious.
Ingredients:
1 cup of chopped almonds
1 avocado
1 tablespoon of lemon juice
2 tablespoons of apple cider vinegar
1 teaspoon of sea salt
6 pitted dates
1 clove of garlic
24 jalapenos
Directions:
1.   In a blender, mix almonds, dates, and garlic until smooth. Add just the flesh of the avocado with the lemon juice and sea salt and blend lightly.
2.   Cut tops of the peppers off and remove the seeds.
3.   Fill the jalapenos with the stuffing.
4.   Place them in a bakinmg sheet.
5.   Bake at 350 degrees F for 45 minutes.
6.   Serve warm on a party tray.
Banana Oat Bars Will Make a Perfect Dessert : Banana Oat Bars make the perfect dessert anytime. They will even make a great snack. They are really wholesome and delicious. It will take you less time to prepare this dessert than most other recipes.
Ingredients:
2 cups of raw oats
2 cups of raisins
1 cup of chopped almonds
1/2 cup of ground flax seeds
2 ripe bananas
1/2 teaspoon of cinnamon
3 tablespoons of nectar
Directions:
1.   Blend all the ingredients in a blender.
2.   Pour the ingredients into a baking pan.
3.   Press and spread the ingredients flat into the pan.
4.   Dehydrate in the oven until desired consistency.
5.   Let cool and cut into squares. Enjoy!
Citrus Dressing is Great to Top Any Salad: This is a high alkaline dressing that is perfect for topping any salad. This dressing is perfect for serving on salads for lunch or dinner. It has a delicious tangy and citrus taste that the whole family will love.
Ingredients:
1/2 avocado
1 cup of orange juice
1 tablespoon of lemon juice
2 tablespoons of chopped cilantro
2 tablespoon of chopped shallots
1/2 teaspoon of cayenne pepper
1/2 cup of olive oil
1 teaspoon of agave juice
Directions:
Place all ingredients in a blender except the olive oil. Mix until smooth.
Add the olive oil and mix for 30 seconds.
Use as a topping on your favorite salad and enjoy!