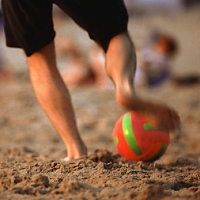 Have you ever tried Outdoor Activities, where you can enjoy the nature with fresh air and sunshine?  There are many outdoor fitness activities you can choose from to help you stay in shape.   If you are able to get a group of friends together, you can try some team sports or activities.
The first outdoor fitness activity is to take in a game of tennis. If your Local Park or school has a tennis court, challenge a friend, family member or neighbor to a few games of tennis on a Saturday morning. Afterwards, treat yourself to a cup of coffee at the local restaurant nearby if you so choose.
Another Outdoor Fitness activity is to ride your bicycle. You can simply ride your bicycle as many times as you want around your block. While you are driving in your car, take a ride once around your block and figure out how many miles you are going when you are riding your bicycle. If your goal is to get up to two miles per day on your bike, then you will know if you have accomplished this or not.
Ride your bike up to the grocery store or post office when you need to get groceries or the mail. Skip driving and get out and move! You may even want to invest in a small basket to safely carry items with you.  Take your bike out to a trail and ride in the terrain. You will get a great workout on the dirt path going up and down hills. You will really work your legs.
Challenge your kids to a game of basketball. If you have a basketball hoop right in your yard it will be very easy for you to step outside and start playing. If you do not have a basketball hoop you can take a bike ride up to your local park or school and play a game or two there. If you have younger children you can play a game of horse for fun.
You and your family can challenge each other to a great game of baseball. Have fun running the bases and cheering each other on. This is a great time to teach your children about sportsmanship.
Frisbee is always a fun time in your backyard. You can really get moving if the wind is blowing and it carries your Frisbee. If there are more than two people, you can make a triangle for three people or a square for four people, etc. Have fun playing Frisbee with your dog or dogs, too. Your dogs will enjoy your companionship and they need the exercise, too.
Play a little catch with your football. You can play a game of flag football or tackle football. Just do not get hurt if you play tackle football or you will really slow down on your exercising for a few days or weeks depending on how badly you injured yourself.