Gym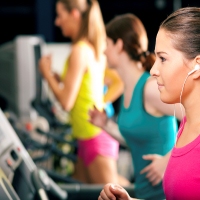 is the place you hear chart music.  You would have heard that Example song anywhere other than at the gym. It certainly helps that for quite a while now; the charts have been dominated by dance music. That big, Ibiza-y David Guetta sound has permeated everything. All the better for the likes of a personal trainer in the gym, who tells the average maximum heart rate someone in their late 20s should be training at is between 156-160bpm, and that any music over 120bpm is best for working out to. Incidentally, Changed the Way You Kiss Me is 130bpm.
There are chemical reactions that make this music, because you didn't know, before started going to the gym. You don't really go "clubbing" any more, listen to radio chart shows or keep track of these things online.Though you may not care, hearing them in the gym makes you care, and makes you aware.
It's a curious relationship with new music, for the discoveries to happen while in a gym. It's like going to the gym has opened a whole new (questionable) taste compartment in your brain. Perhaps it's the endorphin-flooded state your body is in at the time, meaning that when you hear the song again you  associate it with feeling good. More often than not, when the big screen showing videos to songs isn't on to let you know what you're listening to, you'll become so pumped and fixated on songs that you go home and search for them with lyrics you've memorised. An example: a few months ago, you  kept hearing a song about "beautiful people", its Euro-poppy hook building into this gloriously cheesy, mesmeric banger with a vaguely familiar voice singing about inner beauty and taking "your sexy time". You like the idea of time being sexy and was – quite privately – obsessed. Your  typed "beautiful people lyrics" into Google and it turned out it was Beautiful People by Chris Brown, feat Benny Benassi
A few friends who use gyms have had similar experiences with discovering, and for the most part ending up liking, new music. In spite of their usual musical preferences. Some gyms are better than others, though. A friend who is a member of Fitness First says it has its own version of an MTV-style channel, Fitness First Television, (catchy, that) which he says is "erratic", with oddly timed "baby-making music" interludes. A friend who uses Virgin Active says it only seems to play artists signed to Virgin, which must be limiting. Another friend, who uses Gym box, says it has live DJs. Live DJs! In a gym! Like a nightclub with treadmills instead of a dance floor! I guess it makes sense, as this music seems made – no, scientifically designed – for people dancing in clubs, invariably on drugs, whereas hard exercise can produce its own rushes and emotional highs, albeit healthier ones.
So has the gym helped others discover the joys of chart music? Which tracks get your pulse racing? And is it ever OK to enjoy working out to Chris Brown?"