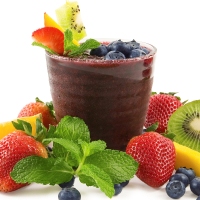 You all know that Fresh fruit juice is good for you!
You're always being told to make sure you get your 5-a-day – 5 portions of fruit and vegetables every day – and now scientists have shown that fresh fruit juices, especially those from grapes, cranberries and apples, are high in antioxidants that are especially beneficial to your health.
Fresh fruit juices and smoothies can be made very easily at home with just a little extra kitchen equipment.  All that you need is a blender or liquidizer.  A blender is ideal for whizzing soft fruits to make a smooth fruity drink, or to combine soft fruits with yogurt, milk or ice cubes for a healthy milkshake or smoothy. You get the whole fruit and all its fibre and goodness in a form that's palatable to even the fussiest child.
Fruit Juices are easiest, healthiest and nutritionally rich to boost your antioxidant intake.  Freshly prepared juices have a creamy texture, a milky hue and fill your mouth with a whole new taste experience. Lemonade made by mixing a juiced lemon (plus peel) with sparkling mineral water and a touch of honey has to be tasted to be believed! You can grow your own fruit, vegetables and herbs, too.
Once you've tasted your own fresh, home-made juices, you'll never stop experimenting with new combinations and flavours.
When selecting produce for juicing:
make sure they're garden fresh – grow your own, swap with neighbours and friends or buy from local markets
consider organic ingredients that are free from artificial chemicals
choose firm, plump items with good colour
Choose seedless grapes and remove stalks to avoid bitter flavours
virtually any blend of fruit, vegetable or herb  is possible – experiment, vary the quantities to suit your taste
dilute with mineral water for a more thirst-quenching drink
add milk for extra calcium eg carrot and milk
Christine Bailey's new book The Juice Diet contains 100 nutritious, delicious juice and smoothie recipes, such as the following:
Athlete's Shake
A superb smoothie whatever your level of fitness and perfect as a pre or post  exercise snack.  Easily digested, hydrating and nourishing it is packed with antioxidants, protein and healthy fats to help prevent muscle soreness and inflammation.