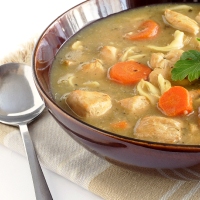 Common Cold is an infectious virus.  It disappears magically after 7 to 10 days. But do you really want to suffer for 7 – 10 days? The chances are it's going to start feeling like 7 – 10 years after a day or two. Fortunately, there are ways to relieve its symptoms, not through medicine, but by using water, fruits, vegetables and a little bit of chicken.
1. The Chicken Soup:  This is good not only for the soul but also for the common cold. Scientific research claims that chicken soup relieves nasal congestion by slowing down the white blood cells that trigger inflammation of the cells.  This means, it can also help with that sore throat. You probably have a family recipe for the chicken soup; go with that.  Make your Chicken Soup a tad bit spicy and add a little Bok Choi. Green leafy vegetables are good sources of Vitamin C.
2. The Lemon Juice:  Freshly squeezed and this is serious, it should be freshly squeezed. It'll give your system the Vitamin C in needs to boost your immune system. If you can find Calamondin oranges also know as Chinese oranges or acid oranges, anyway it has many names but technically it looks like a small orange, start making some juice. A good recipe would be 3 Calamondin Oranges or lemon, add warm water, a tablespoon of honey, stir and it's ready to drink.
3. Bottled Water Therapy:  Hydrate yourself! This will thin out the mucus, prevent dehydration because of the fever and, will help you sweat. Sweating is your body's way of removing toxins as well as cooling you down.
4. The Gargle:  But what do I gargle, you ask? Well here's a little secret, a teaspoon of salt, a tablespoon of vinegar, add water… about half the glass and, stir. Gargle for 30 seconds.
5. Rest a lot:  One of the body's ways of healing itself naturally is resting. Sleeping is good for your body.  When you you sleep your body's natural fixing mechanisms kick in to action but like everything else they have punch cards. Sleeping from 10pm to 6am is their 8 hour rest and then go to work.
Well now, there's one more family secret to share with you, go for organic fruits. Organic fruits don't have chemicals that can harm your body in the long run. Also, think about giving employees organic fruit gift baskets as an appreciation gift, showing a job well done! This helps to maintain a healthier work force and they'll think you're a great boss too!
Other than that, it is highly recommended to stay away from people with colds and wash your hands regularly especially during the cold and flu season.  This virus is mainly transmitted through physical contact…a dirty hand to eye to nose! Oh, one last thing to keep in mind…antibiotics have no effect on common cold.  In fact they may cause more harm than good. Please talk to your doctor about what's best for you!