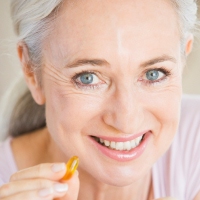 The nutritional status and needs of elderly people are associated with age-related biological and often socioeconomic changes. Changes in bodily functions, together with the malnutrition associated with advancing age, increase the risk of developing a number of age-related diseases. Chronic conditions pose difficulties for the elderly in carrying out the activities of daily living and may increase the requirements for certain nutrients due to changes in absorptive and metabolic capacity..
Researchers have discovered that fish oils promote longevity and healthy ageing. Fish oils are rich sources of Omega-3, which extend the life expectancy of body cells. Oily fishes such as salmon, tuna, mackerel, sardines, trout and herring contain Omega-3. The oil is usually extracted from fish to make Omega-3 nutritional supplements.
Alleviating rheumatoid symptoms: Omega-3 also reduces the risk of chronic inflammation that starts plaguing most parts of the body with the advancement of age. This can go a long way in preventing stroke and rheumatoid arthritis. Patients who consume fish on a regular basis have reported a remarkable decrease in joint tenderness and morning stiffness they had been suffering from. Fish oil does not act as a pain killer, but only reduces the symptoms.
Benefits of fish oil in cardiac diseases: Even though fish eaters are known to consume more cholesterol than non-fish eaters, research shows that the frequency of fatal heart disease among them is lesser. Intake of fish oil helps reduce the heart's work load which it must deal with on a day to day basis.
Fish oil for better sight: The anti-ageing benefits of fish oil include preventing macular degeneration that occurs with age. Omega-3 fatty acids ensure healthy circulation of blood to the retina, maintaining the strength of blood vessels around the eye.
Combating keratosis: Fish eaters are also less likely to develop keratosis or wart like skin spots, which appear as you grow older. Keratosis can also occur with constant exposure of the skin to the rays of the sun. The consumption of fish rich in Omega-3 is vital for people who have keratosis, to prevent the spots from spreading further. Keratosis is a condition that could often lead to skin cancer.
Prevention of Alzheimer's disease: Regular consumption of Omega-3 goes a long way in preventing age-related cognitive decline. Fish oil is also a major source of docosahexaenoic acid (DHA) and eicosapentaenoic acid (EPA), which reduces the risk of neo-vascular age related muscular degeneration. Experiments have proved fish eaters are even less likely to develop Alzheimer's disease.
Aiding the prevention of mental disorders: The supplements in fish oil help prevent mental ailments like schizophrenia, depression, bipolar disorder etc. Consumption of Omega-3 fatty acids promotes the proper functioning of dopamine and serotonin, thereby preventing degeneration of the brain's signaling system.