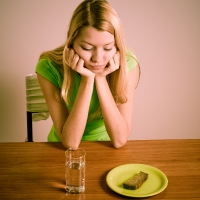 As quoted by the BBC News, "A leading hospital has challenged claims that the "size zero" culture is causing eating disorders in children.
Campaigners fear that young children are being influenced by celebrity magazine culture.
'We believe much of the coverage today regarding children and eating disorders is misleading," Dr Rachel Bryant-Waugh, Head of the Eating and Feeding Disorders Service at the hospital, said.
"Models and other society influences are, in our experience, rarely a contributory factor to the development of eating and weight difficulties in young children."
Dr Bryant-Waugh said children as young as five might have to visit hospital with low weight and significant eating difficulties "for a variety of reasons, and not because they have one of the formal eating disorders Anorexia nervosa or Bulimia nervosa."
Recent figures show that in England between 2009 and 2010 there were 395 admissions to hospital for eating disorders among 0 to 14 year-olds.
Gender difference
Figures published in the British Journal of Psychiatry suggests that in UK and the Republic of Ireland eating disorders affect about three in every 100,000 children, aged between 5 and 13.
Over a 14 month period, the study, carried out by the Institute of Child Health at University College London, found that 82% of the children with eating disorders were girls, with boys accounting for 18%.
In total, 37% of the children were diagnosed with anorexia. 43% were classified as having an eating disorder not otherwise specified, but only 1% were diagnosed with bulimia, with the rest having other symptoms such as food avoidance, or being underweight.
Uncertain figures
Susan Ringwood from the charity Beat warned that the problem may be worse than the figures suggest.
She said many young people with eating disorders such as bulimia and anorexia have not yet got treatment, so it is difficult to know exactly how many are affected.
"I think it probably doesn't capture the whole picture here because we know that lots of people who have an eating disorder haven't yet got the treatment that they might need so I think the picture of people affected could actually be larger than this."
She also warned that the age of those affected by eating disorders was coming down. "We are seeing younger children affected.
"I was part of the group that put together the government guidelines on treatment in 2004 and then we said people (were) as young as eight. But I think we're seeing younger ones coming forward now."