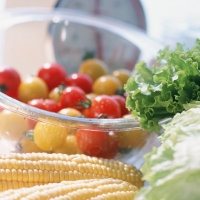 Do you know what Vegetarian Diet consists of?  It consists of grains, pulses, nuts, seeds, fruit and vegetables, dairy products and eggs.
You do not need to get the balance exactly right at every meal, but try to get it right over longer periods, such as a whole day or week. Choose options that are low in fat, salt and sugar whenever you can.
A vegetarian diet could help protect against a common bowel disorder, research has suggested.
Vegetarians were found to be a third less likely to get diverticular disease, a condition thought to be caused by eating too little fibre. It causes cramps, bloating, wind, constipation and diarrhoea.
A study led by Dr Francesca Crowe from the Cancer Epidemiology Unit at Oxford University, published online by the British Medical Journal, looked at 47,033 British adults, of whom 15,459 were vegetarian.
After an average follow-up of 11.6 years, there were 812 cases of diverticular disease. Vegetarians in the group had a 30% lower risk of having the disease, compared to those who ate meat, fish or both.
The authors said the reason could be the consumption of meat altering the metabolism of bacteria in the colon, and therefore weakening the colon wall and increasing the risk of diverticular disease. They found nothing significant about the amount of meat eaten.
The potential protective benefits of vegetarianism could be obtained even in a short time, the study found. There also seemed to be a link between eating more fibre and being at lower risk of the disease.
Patients who consumed the most fibre, more than 25.5g per day for women and more than 26.1g for men, had a 42% lower risk than those who ate less than 14g per day.
If you shop carefully you can eat a healthy vegetarian diet on a limited budget.  When buying your fruit and vegetables, remember that fresh, frozen, canned and dried all count towards your '5 a day', as do juices. So there are lots of ways to include a variety of fruit and vegetables in your diet.
Contrary to popular belief, most vegetarians have enough protein and calcium (found in dairy products) in their diet.  However, if you don't plan your diet properly, you could miss out on essential nutrients.