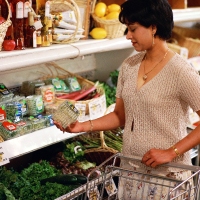 You all have different needs, when it comes to eating.  You need to make some basic healthy choices to contribute to your overall wellness. These simple changes can make a big difference.  You make Food Decisions, based on cost and your capacity.
There are no two ways about it — when you eat whole foods, you spend more time preparing meals than you would if you're just heating up a premade dinner. The good news is that the extra time spent cooking is a great investment in your health.
An update of what used to be known as a food pyramid in 2010 had called on Americans to eat more foods containing potassium, dietary fiber, vitamin D and calcium. But if they did that, the study authors said, they would add hundreds more dollars to their annual grocery bill.
Inexpensive ways to add these nutrients to a person's diet include potatoes and beans for potassium and dietary fiber. You know more than ever about the science of nutrition, and yet you have not yet been able to move the needle on healthful eating.
Washington State Policy makes it difficult to buy potatoes with food assistance coupons for women with children, even though potatoes are one of the least expensive ways to add potassium to a diet.
People who spend the most on food tend to get the closest to meeting the federal guidelines for potassium, dietary fiber, vitamin D and calcium, the study found. Those who spend the least have the lowest intakes of the four recommended nutrients and the highest consumption of saturated fat and added sugar.
Hilary Seligman, assistant professor of medicine at the University of California, San Francisco, said Monsivais' research is an interesting addition to the debate about healthy eating and food insecurity, her area of expertise.
A lot of people assume the poor eat cheap food because it tastes good, but they would make better choices if they could afford to, said Seligman, who was not involved in the study.
"Right now, a huge chunk of America just isn't able to adhere to these guidelines," she said.
But Monsivais may have oversimplified the problem, according to another professor who does research in this area. Parke Wilde, associated professor at the Friedman School of Nutrition Science and Policy at Tufts University, said it's not expensive to get all the nutrients a body needs to meet the federal guidelines.
What is expensive, in Wilde's opinion, are the choices Americans make while getting those nutrients.  He said diets get more and more expensive depending on how many rules a person applies to himself, such as eating organic or seeking local sources for food or eating vegetables out of season
Adding to the cost of buying healthful food could be how far away from home you need to travel to get to a grocery store that sells a variety of fresh fruits and vegetables.