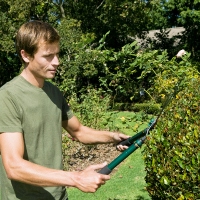 Most of you make your New Year's Resolutions. You feel confident of your Healthy New Year's resolutions, but fizzle out in a month or two.  The trick to maintain a healthy resolution is to pick a lifestyle change that you can do the rest of your life. Here are some great healthy resolutions to jump-start your year:
Want to lose weight?
Have more fun?
Get more creative? I
mprove body and mind?
Achieve it all by taking up gardening this year.
Gardening is the multi-tasker of all New Year's Resolutions. It enables you to exercise, lose weight, tone up, create something beautiful, lower blood pressure and lift spirits, all at once. And 'gardening' can cover many activities, from growing your own vegetables and flowers to building a pond or treehouse. For a list of 24 online gardening courses to give you inspiration, go to the MyGardenSchool website.
Calorie Burning.
Gardening is the perfect way for you to achieve your recommended 30 minutes of exercise per day.  Gardening works all the major muscle groups: legs, buttocks, arms, shoulders, neck, back and abdomen. There can be a great deal of stretching involved with gardening, like reaching for weeds or tall branches, bending to plant and extending a rake. Lifting bags of mulch, pushing wheelbarrows and shovelling all provide resistance training similar to weight lifting, but there is minimal jarring and stress on the body, unlike aerobics or jogging. This, together with regularity and diversity of movements means that gardening can burn calories, tone your body and build strength, while improving the health of bones and joints.
Uplifting Spirits.
Even just looking at a garden can give you a positive boost. The evidence is so compelling that there is now even a term for it – horticultural therapy – and it is being used in a variety of ways. For example, major cities such as Chicago are using gardening or horticultural therapists to help plan parks and botanical gardens, and to treat hospital patients, who are invited to join in the weeding, pruning, cultivating and harvesting.
A number of experiments have led scientists to reach their conclusions. In one, reported in the Journal of Environment Psychology, researchers took 112 young, stressed-out adults and split them into two groups. The first sat in a room with a view of trees and then strolled through a garden. The other sat in a windowless room and then walked in an urban environment. The group that relaxed in the garden showed decreases in blood pressure and a positive change in feelings. Researcher Dr Terry Hartig, from the University of California in Irvine, said: "Some of the changes could be measured within minutes."