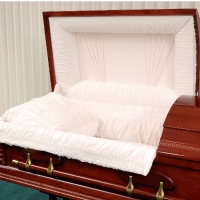 Ghosts are pretty good for business, even in hotel industry.  Hotels that claim to have a resident ghost or two will oftentimes jack up the price of that room for any brave soul who would dare to lay their head down for a restful night's sleep among the dead.
Hotels, like any other business, are out to accomplish one thing, to go to any lengths to ensure that their profit margin is way up, to achieve that goal.
Despite the fact that many hotels have been disproved or found to be frauds in the quest to make that green some hotels can honestly say with all certainty that some weird shit truly happens when their guests lay their heads down at night and the dead roam. Ghosts haunt places where their flesh and blood counterparts are able to do so. So sit back, crack a beer and enjoy.
An unlikely industry has been born in the suburb of Yokohama, Japan. Lastel is the name of a new hotel with a price tag of 12,000 Yen per night (£98).
You might expect a pretty luxurious room; a turn down service, maybe half-board, a daily maid service and some fresh flowers.
The flowers are fair assumption. Maybe not a coffin though. Because Lastel is a hotel for corpses.
18 refrigerated  coffins are offered for dead guests where they are stored and delivered through hatches into viewing rooms. Family and friends can come and pay their respects at any time of the day or night at the 'half-way morgue'.
The owner of the hotel, Hisayoshi Teramura, expects the trend to continue and other morgue hotels to open in future years.
With the sharp rise in deaths seen in Japan in recent years, crematoriums have a busy waiting list for their services. The end of the nation's baby boom generation is expected to reach its peak in 2040 with 1.66 million deaths.
So can we expect more 'chilled' hotels or crematoriums? There may be some stiff competition.
The ghost story is often told as gruesome.  The spirits of the dead, may be of an employee or guest or gunman, manifests as a feeling of intense dread and regret.  These spirits, who appear have various other unexplained events.
A day will come, when no-one will be haunted, after performing an exorcism.  Believe it or not,  all the haunted hotels will reopen with a few extra "guests" who may not be willing to  leave.