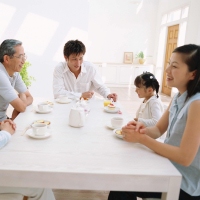 Family is really important for everyone because it provides us warmth, happiness and protects us from getting any hurt. However due to the busy schedule, people seem to neglect their families. For most office workers, they only have time to spend with their family members in the morning or at night. This directly influences the relationships and dynamics that a family possesses. If you fell this way, you should punctually find solutions to save your family. Otherwise, you will regret for the whole life. Below tips may be helpful for you.
First of all, spare enough time for your family however busy you are. Even an hour, it can bring unimaginable effect. Family time is hard to find, especially when you are busy at work. With the purpose to develop a good family relationship, you should cut back on busy schedule and make some time for your family members.
Besides, you can make way for family vacation. For a certain period, you may neglect your family due to the busy work. Even though, you can make up for it via a family vacation. This is a good way for self relaxation after hard work and family relationship development. Different from the daily interaction, you have more time to stay with each other. In that case, you can get to know each other much better by spending time alone with your family.
Another good way to keep the family relationship in good status is to send messages or contact them by calling. In our weekdays, we have very little time to spend with our families. However, we can send messages or give calls to them, asking how they are or what they are doing. Even in the office, you can do that. It would not take you a lot of time, but it really works for relationship development.