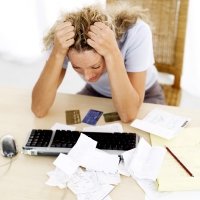 In today's society obtaining loans and credit cards are easier than it was some years ago. A large proportion of the population uses credit cards and obtains loans to finance the life style that they want.
Unfortunately, people tend to take more credit than their income will allow them to pay back. This becomes the cause of worry to maintain the payments.  This type of worry leads onto sleepless nights arguments within the family – everyone blaming each other and at the end of the day possibly someone ending up in hospital again incurring further problems. Can you see the cycle – one thing leads to another then back to the start again?
Let's look at some of the things you have control over before we reach this situation.
 Know and understand what income you have coming into the household.
Be aware of existing running expenses Utility Bills, Mortgage, Rent and clothing and food.
Transportation costs public transport fares, car expense so you can commute to your place of work.
You can factor in saving for your holidays and other items not essential for everyday living.
If you write down and keep an accurate record of these basic things and form a budget to control your finances the worry will not occur. We all know that in life there are unexpected bills not thought of before, but if you are controlling your income correctly and putting some money aside, you will cope without any undue problems that you cannot tackle.
Unfortunately this does not apply to a lot of people and their debts are out of control with the worry that goes with this. A short answer would be to consider whether you can consolidate all your debts into one loan possibly taken over a longer period with the possibility of reducing the amount you pay each month. This will obviously depend on your credit score and whether or not you can get access to another loan. If you follow this course of action then if part of these debts includes credit cards you must after settling these cards cut up and not use the cards again or what you have gained will quickly disappear. Being strong with yourself with regard your finances is a definite must. This could then remove the first of your problems, unfortunately the worry aspect may well by this time be deep seated, you therefore have to tackle this stress problem separately getting help with this condition again is a must or the chance of gaining control of your life will elude you.
It is far better to have control of your finances right from the offset and save yourself the possibility of makes yourself ill. Control your own life, do not let the banks or loan companies control it for you.