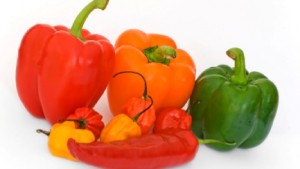 Eating vegetables is an obvious choice to make to boost your weight loss as well as your wellbeing, but why are they all so boring? It can be hard to focus on your wellness goals when you're staring down at a stick of celery, so why don't you add a little bit of sunny Spain into your diet to make weight loss fun? Pimientos are little, heart-shaped Spanish peppers and are the little red things inside green olives, in case you were wondering. You can roast or bake them like a bell pepper, or pimientos can be dried and ground up and sold as sweet paprika.
Let's start with roasting. Slice the pepper in half, or cut off both ends, and remove all the seeds. Slice the pepper how you like and place it skin side up on a baking sheet in a preheated oven of 400 degrees Fahrenheit. Roast until the skins are evenly charred and then put them in a plastic bag so they can 'sweat' off the skins as they cool. Then you'll be able to peel the skin off easily and use them as you like.
Pimientos are great for baking, especially if you want to add a savoury component to your baked goods. For savoury muffins, simply add 1/3 of a cup of chopped, roasted pimentos or canned pimentos for every 12 muffins that you are making, and you can add roasted pimentos to foccacia bread or sandwich rolls to increase flavour and visual appeal.
If you want a little something special to go on the bread, pimiento cheese spreads go well on sandwiches and breads, as well as being a common dip and cracker spread. Using either canned or roasted and chopped pimientos for your soft spread; you can grate and melt sharp cheddar or other cheese into a can of evaporated milk over low heat. Then just add the pimientos, stir until completely melted and then leave to cool in the fridge or at room temperature. Leftovers should keep in the fridge.
Finally, for something a little warmer you can blend pimientos well into chicken soup. Sauté a small, chopped onion and a cup of fresh mushrooms for in a pan for five minutes, and then place these in a bowl. In the pan, melt ¼ a cup of butter over low heat and add ½ a cup of flour, stirring until smooth to make a light roux. Add 2 quarters of boiling chicken stock and stir, then adding the onions, mushrooms and ½ a cup of diced pimentos and 1 cup of cooked chicken. Let it all simmer for 30 minutes, and then serve.