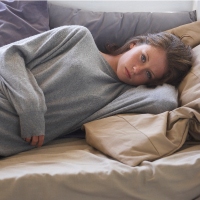 Chronic fatigue syndrome is generally accompanied by other specific symptoms for a minimum of six months in adults (and 3 months in children or adolescents), not due to ongoing exertion, not substantially relieved by rest, and not caused by other medical conditions.
Fatigue is a common symptom in many illnesses, but Chronic Fatigue Syndrome is comparatively rare.
Web-based treatment may be better at helping teenagers with chronic fatigue syndrome, according to a study by scientists.
Dutch researchers writing in The Lancet journal said 63% of those given psychotherapy online had reported making a recovery. This is almost eight times better than those given standard care.
UK experts said the difference was "impressive", and showed that therapy given this way could be effective.  The reasons why people suffer chronic fatigue are not well understood, but in recent years it has been suggested that cognitive behavioural therapy – a form of psychotherapy – can have a positive effect in some cases.
However, even if this became an established therapy, the relatively small number of therapists available in some areas would be an obstacle to reaching everyone affected.
Support by email
The Dutch study, organised by the University Medical Centre in Utrecht, looked at the potential of Fitnet, a web-based psychotherapy programme.
Fitnet tries to replicate face-to-face cognitive behavioural therapy online, with a skilled therapist on hand to provide support via email.
A total of 135 adolescents with chronic fatigue were involved in the study – half were given standard treatment, normally individual or group psychotherapy and exercise therapy, while the remainder were enrolled into Fitnet.
After six months, 85% of the Fitnet group said they had no severe fatigue, compared with 27% in the standard treatment group. Three-quarters of the Fitnet adolescents were attending school fully, compared with just 16% of those receiving standard treatment.
After a year, similar results were seen, even among those who swapped from standard to Fitnet at the six-month mark. Fitnet was more intensive than standard treatment, with participants logging on to the software an average of 255 times, and emailing the therapists on average 90 times.
Professors Peter White, from Barts and the London School of Medicine, and Trudie Chalder, from King's College London, both psychologists, said that the Dutch researchers should be congratulated for carrying out the research.
They have added to an increasing evidence base which shows that therapist-aided, internet-based cognitive behavioural therapy is an effective treatment for many similar disorders. However, they said that the response to conventional psychotherapy seemed unusually poor, and that there was no guarantee that similar results would be achieved among adult patients.